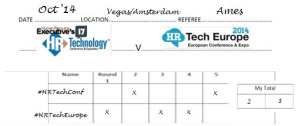 OK, before I start losing friends at LRP, I want to say that both conferences were great. I also want to point out that there are other conferences thrown throughout the year, namely IHRIM and SHRM, that are worth including in the comparison. However, due to the commonality of name and the proximity in timing (both in October), I'm restricting it to these two. As usual, I thoroughly enjoyed the vendors, the fanfare, and the general atmosphere of the US version of HR Tech, held a second year running in Vegas. However, in evaluating the conferences for the following criteria, I show #HRTechEurope coming out slightly ahead.
Manageability – #HRTechEurope
Perhaps this is an unfair evaluation criteria, but it certainly impacted my ability to get the most out of my experience. #HRTechConf is huge – massive expo hall, hallway after hallway of sessions – you basically always feel like there might be something else going on that you're missing (my #FOMO was really kicking in). #HRTechEurope, on the other hand, is right there for the taking. In fact, everyone pretty much congregated in one particular area: the tables just as you enter the expo hall. Another good example of the manageability was the conference app. It wasn't necessarily more robust than the Vegas version, only that it was easier to follow the amount of content being produced, and there were fewer names to put with faces. Some might view that as a negative…I thought it made things easier to track.
After parties – #HRTechConf
OK, this was a tough one to call. I actually preferred the personal atmosphere at the Glassdoor party at #HRTechEurope, where I spent the first half hour chatting with their CEO, Robert Hohman, and the remaining time catching up with industry colleagues. It was far different than Glassdoor's party at #SHRM14, held at the Hard Rock at Universal Studios in Orlando, and the many large parties in Vegas. I also very much appreciated the amazing, intimate dinner hosted by Achievers at Hotel D'Europe.
That said, how can you possibly beat free, front row balcony seats to Third Eye Blind at the Party Like It's Your Job Party, hosted by Cornerstone OnDemand, HireVue, Appirio and Aon Hewitt at the House of Blues? Or the unbelievable views of the Las Vegas Strip from miX Lounge and JobVite's HR Tech Party of the Year? Answer: you can't.
Expo Hall – #HRTechEurope
One thing sticks in my mind as far as the analogy between the two expos…the ceiling height. In Vegas, you feel like you're at an indoor arena. It creates a distance, even when you may not be physically far from someone. Alternatively, in Amsterdam, the ceilings were lower, and oddly it seemed to encourage more engagement. I remember repeatedly looking down the aisle that housed Haufe, Sum Total, and Achievers and thinking to myself that I didn't see that kind of density once in Vegas. Again, it could have been just an illusion, but that's how it felt to the attendee. Having said all of that, I'm talking about the engagement in the expo hall. Clearly, the edge goes to #HRTechConf in terms of number of vendors. Also, #HRTechEurope had a very odd layout, kind of like a horseshoe, and I know of at least 3 vendors that were not at all pleased to be on the wrong end of the horseshoe. Ironically, they were right next to the #DisruptHR area, which makes it kind of hard to disrupt from afar.
International HR Tech – #HRTechEurope
I can't tell you how many people I knew from the US were at #HRTechEurope for the first time. Wait, yes I can, it was roughly 20. The odd thing that I didn't talk to anyone that I knew from the US that had been to #HRTechEurope in the past. Not only that, but we were well represented in terms of leading sessions, key notes, etc. That's not to say that a US presence entails Global – I'm not that naive. What does indicate the global nature of #HRTechEurope is that many conversations I entered started in another language and adjusted to English to accommodate me (or remained in Spanish). It was great to talk to the heads of HRIS at European companies and finding out how their field is viewed differently than it is in the US (still more in terms of execution than strategy). I also enjoyed seeing some of the European vendors on their turf, and watching how the US vendors were trying to capture market share in Europe. That's not to say there wasn't a huge international presence at #HRTechConf in Vegas. It just seemed more in the background.
Content – #HRTechConf
This was another tough one, especially since I spent more time in the vendor hall in Vegas than in sessions. However, I feel that the #HRTechConf content is more mature, and I had an easier time following the "tracks" as defined (HCM&Workforce Management, Talent Management, Recruiting, etc.). #HRTechEurope used an interesting approach of a "Main Stage" and then sub-areas for things like Talent Acquisition, etc. It almost gave the impression that you had to follow one or the other, even though there were many times I wanted to be watching sessions within each. Both conferences had the concept of Expert Discussions, and to be honest the best session had to be the one at #HRTechEurope moderated by Jason Averbook where leaders from Workday, SAP/Success Factors, and Oracle had to answer questions like "why should somebody buy your product over the others?" Also, it was easier to find smaller sessions at #HRTechEurope where your own voice could be heard.  However, everyone tries to get on the docket at #HRTechConf, so the issue of supply forces the content to be at a high level. (Again, as my initial disclaimer in this post stated, I'm just comparing these two, as I believe that the content at #IHRIMConf is even better).
So, there you have it. Attendees of both conferences were able to get plenty of value out of both, but for me personally I felt slightly more satisfied by my experience in Amsterdam. I wouldn't put it past a European attending #HRTechConf to call it 3-2 the other way, meaning that you always tend to favor things that are new and exciting to you and not as accessible. In fact, I'd be curious to see how other Europeans and Americans who attended both called it.