Britain's departure from the European Union isn't the only Brexit of 2016. Several Britain-based musicians have started to kick their careers into high gear, a few garnering success worthy of international tours. Some have included cross-pond trips to the U.S., earning the movement my the label of the music industry's Brexit.
Perhaps the artist that best exemplifies this phenomenon, and who achieved arguably the year's greatest ascent, is 21 year-old singer/songwriter/producer/DJ Tom Misch. His 2016 culminated in a whirlwind tour that just wrapped this past Saturday in Amsterdam.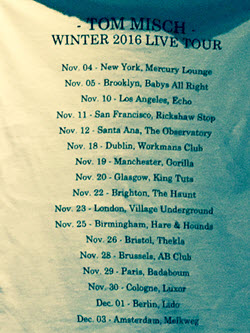 Tom started to attract real attention last year as listeners were drawn to the modern smooth jazz/soul vibe of his 'Beat Tape 2' album. Between the hypnotic beats, violin, catchy vocals, and Tom's riffs on guitar, it doesn't take long to get hooked. Songs like 'Falafel' might make you feel instantly cooler. Add that to an interesting mixture of vocalists like mainstay Carmody (discussed later as a solo artist) and other up-and-coming British artists such as Loyle Carner and Zak Abel, the twists and turns as you explore Tom's music tend to lead to pleasant discoveries. The best of all discoveries will be saved for later.
New York City
The date that best represents how far Tom and his traveling companions have come was November 4th, 2016. That night, Tom opened the tour in New York City at the Mercury Lounge. In a venue perfectly sized for the few hundred people fortunate to take in Tom's U.S. debut, the aforementioned Carmody opened her set alongside Tom's sister, Laura, who was on sax and vocals. Carmody (which is really her middle name used as a stage name) exhibited her powerful voice on ballads like 'Skin' and what at the time was a soon-to-be-released 'The Light of Me.'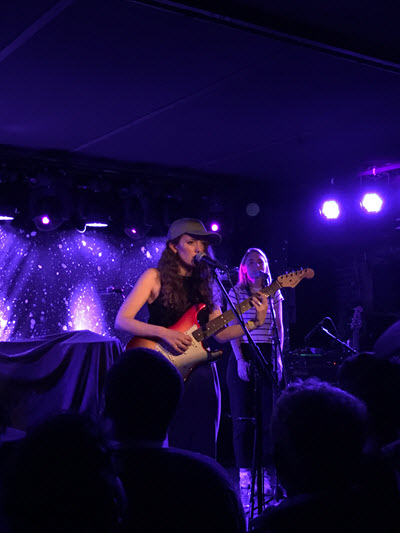 Successfully teed up, Tom and his band members rocked the New York audience with a well-concocted setlist that mixed some of his best songs to date like 'Colours of Freedom' with future hit 'South of the River.' Every instrument, from the keyboard to bass, drums and violin, which was only sightly less impressive than Tom's guitar, were all spot on. Possibly not knowing what to expect as far as crowd reaction in a land far from their London home, the band responded to the crowd singing along to tunes like 'Sunshine' with beaming smiles.
Both Carmody and sister Laura returned to the stage for vocal and sax accompaniments as part of Tom's set and, as would happen many times on the tour, Laura's performance on 'Follow' was met with raucous applause.
In the end both the audience and the band were treated to an exciting first show in the U.S. In some strange way, just like the title of the 4th song in his set, one couldn't help but think that Tom had arrived somewhere important.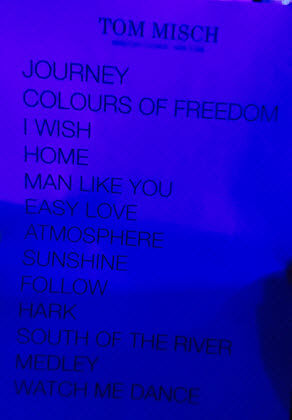 The Discovery
In a post-show interview, I uncovered a poignant story about a young Tom, maybe 5 or 6, who had already been playing the violin for some time, coming home after school one day and singing 'Man Like You' by Patrick Watson. His mother and his father, taken aback, exclaimed "Well, I guess the boy can sing too!" That's the discovery referenced earlier; as you make your way through the collaborations he's produced with other artists, it isn't until you hear the first song that he sings that you realize he also has a voice worth listening to. The best part about the story: Tom performed 'Man Like You' in his set.
The tour continued in Brooklyn, NY and then off to California, where in another example of how far he'd come, the Los Angeles venue was changed to accommodate a larger crowd.
Back in Europe
Successfully through their first U.S. trip, the band returned to Europe, where I was fortunate enough to take in the Dublin show. It was when Carmody's catchy 'The Light of Me' came on the radio in a pub hours before show time that I was again reminded of where they were in their collective ascent. Also noteworthy is Carmody's double victory in 2016, having both accompanied Tom on several songs as well as producing/performing many on her own.
The 4 stops since New York had only served to fine-tune the performance, and the Dublin crowd clearly appreciated the set's quality. That said, it was an honor to have been part of the crowd that convinced him to do an unexpected encore in New York, whereas the Irish weren't quite as lucky. 😉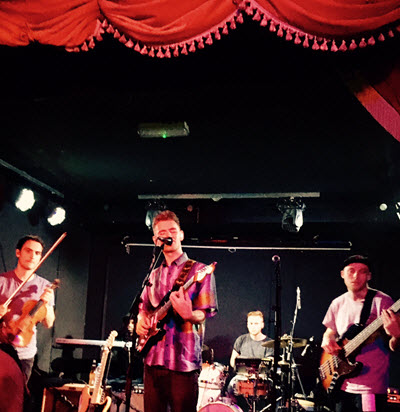 Wrap-up
The global excitement built as the tour continued. In Manchester the crowd was electric when Zak Abel joined in to perform 'Beautiful Escape' (cover photo for this article). Several shows later, after I'd hopped off the train, more of Tom's local collaborators joined him in London, which Tom's sister Polly (who creates some of the art for the music) described as having "so much passion and playfulness from all the musicians." That event is the best representation of the future potential. Other collaborators include Alfa Mist (jazzy, hip hop vibe) and Australia-born Jordan Rakei, whose 'Wake Up This Day' accurately represents the music. Overall, Tom's circle has traits similar to groups like the "Rat Pack" of the U.S. from the 1960's, led by Frank Sinatra. Of course, my uncle Art, who DJ's for a local radio station, calls that comparison "hyperbole because I'm older and remember how all-consuming the Rat Pack was." That's correct, and no slight intended to Ol' Blue Eyes. The point is that sometimes a group of artists can collectively elevate their careers…and of course the Rat Pack didn't even have the internet to coordinate, communicate and distribute their work.
Once the band takes a much earned breather from live shows, plenty can be expected from them as we roll into 2017 and beyond. In comments about music he's currently making, he has alluded to an affinity for "disco," which you can bet he'll somehow freshen up and smooth out.
In the meantime, there's much to catch up on, like 'Watch Me Dance,' (official video below directed by Tom Ewbank), which starts out with violin and evolves into a catchy melody, and is either a great example of his talent or the last stop you should take in getting to know what he's produced to date.