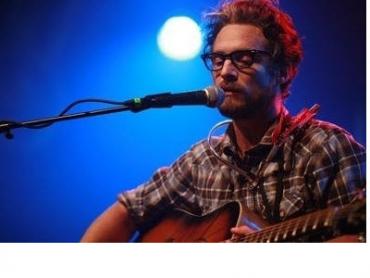 A man lays his aching skin in a hole next to his pale white lover. You're confused. What happened to the orchard in full bloom? What of the two carefree lovers? Wait, he "tasted her fragrance." Did he kill her?
The plot twist is just one of the elements that make Doug Burr's "Red, Red" worth a listen…or several. The banjo and other instrumentals put the orchard somewhere in the South. The vocals start with a guttural groan reminiscent of a polished Tom Waits, and build to an impassioned protagonist lamenting his "Mary, dear Mary." Listen for the alliteration and hissing towards the end.
Doug talked to me about the fictional nature and inspiration behind his "country death ballad."
The father of 4 who lives in Texas and works in IT also opened up about the recurring theme of spirituality and attributed it to growing up in church and singing the hymns. What strikes the listener about his body of work is that, similar to "Red, Red," there's a constant play of dark and hopeful, which Doug directly correlates to his religious beliefs.
Other than in his album The Shawl, which he wrote to calm his first child at night, religious themes aren't blatant in Doug's music. Of the genres he used to describe it, "roots rock" seems the best overall fit. His answer about who he emulates in his music is a sign of his maturity. "As you develop, you're still inspired, but you're your own you."
In keeping with career stage, Doug's more recent Pale White Dove album features a peppy "Never Gonna Be Young Again," with Doug flashing a Violent Femme's-like "ah ba-ba" and some well-placed falsetto. 10 seconds into a darker "I Love To Hate You," and you're seized by the push and pull of the world he documents. Lines like "a fun world and I see natural disaster," are only bested by "a fountain filled with…snakes."
The most purely hopeful of Doug's songs (with the exception of the aforementioned The Shawl album) is "Do You Hear Wedding Bells." That song has garnered by far the most attention on Spotify with greater than 2 million listens. While Doug confirmed that it's used at weddings, you have to listen closely to understand why it fits the dark undertones of the rest of the album it's on, O Ye Devastator. As he explains, it isn't about fairy tales and weddings, but rather the accessibility of love leading to the abuse of its power.
What you won't find in Doug's songs are political inferences. He wants his "art to be about classic themes, not whoever the president is in these 4 years. It should speak at a gut level that can apply to any person now or in the future."
In 2017 Doug expects to be recording in shorter bursts to match his lifestyle. His obvious grasp of the human condition, along with the actual state of the world today means that we can all stand to benefit from his music…even if more of his protagonists slink into holes in the ground with their lovers.
Other referenced songs: