I'm not sure I'm up for starting a movement, per se, but I'm certainly going to put this down on electronic paper…and why not hashtag it? There's a sense of urgency to it as well, because if you're with me, you have 1 day to put this plan in place.
Here's the chain of events that led to this post and some media for context.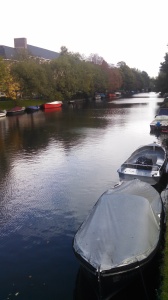 Last week, I went to Amsterdam for #HRTechEurope. My first night there, before my colleagues arrived, I had dinner an outdoor restaurant in an area called Leidseplein. As is typical in Europe, I struck up a conversation with the people at the table next to me, David and Leonore, who were nursing students from just outside of Frankfurt, Germany. Somehow in conversation it came up that Leonore was vegan. I found that out as I was waiting for my first portion of "all you can eat ribs" to arrive. Talk about one of the most primitive dishes we eat as carnivores.
I confessed that I had once taken a one month hiatus from meat. What followed was an entire conversation about the rights and wrongs of eating meat, most of which fell on the wrong side. The basic theme was that we as humans have other options besides taking an animal's life. So why don't we exercise those options exclusively? Well, I also pointed out that after my month-long hiatus I had a craving for meat I hadn't actually noticed before. So, there's that. But is craving enough, or is it something we can surmount?
Three days later, I was staying at Common Leys Farm, a fantastic bed and breakfast outside of Oxford, England. We were sitting at breakfast, and I ordered the vegetarian version of the full English breakfast (basically, substitute a vegetable sausage and mushrooms for the real sausage). I got a weird look from my cousin Colin and explained the Amsterdam debacle, and how I was going to try to abstain from meat for a while. While we awaited our breakfast, I took the opportunity to walk around the property.
First, I pet this cat, who, speaking of not killing for food, was nice enough not to attack the bird in the open cage nearby.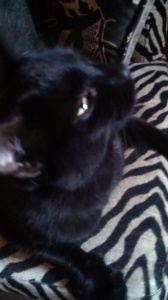 Then, I headed outside and spent some time with the cows.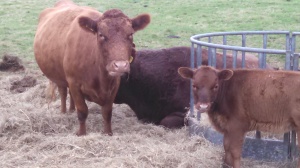 And had a conversation with a pig, who might someday be the part of the real full English breakfast. OK, our talk was mostly one-sided and in hindsight a bit embarrassing.
And then I waved to the alpacas, who looked comforted in knowing I'd likely never eat one of them.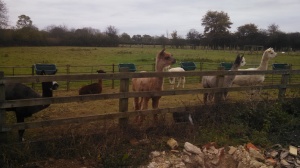 That was it. Just a nice, pleasant moment with the animals which, if you live anywhere other than on a farm, and you have all these discussions about meat eating swirling in your head, is enough to be poignant, and cement your decision.
The next day we went to Stratford upon Avon, the birthplace of Shakespeare.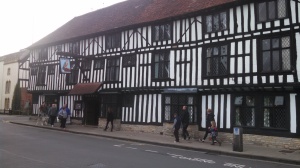 For lunch, I went to The Garrick Inn, a pub in a building that dates back to the 1400's. There were like 2 things out of 50 on the menu that are vegetarian, neither of which sounded appealing. I gave up – yes, that easily – and ordered a special of chicken tikki masala. I rationalized to myself that it was just a chicken, as if chickens aren't real animals. Arriving back in London that evening, Colin got wind of my lunchtime fail, and I felt even worse based on his reaction.
Flying home, a few things happened that ordinarily would have passed me by, but again the thoughts were already swirling. First, I watched a special by Louis CK, one of my favorite comedians. He did a routine about how fantastic it was that we humans had actually escaped the food chain, and how horrible it would be if we had to live in constant fear of being gored by a lion. While I was dying of laughter, much to the chagrin of my neighbors, I was also thinking about how that applied to the events of my trip. Then, I read an article in Virgin Atlantic's magazine about Movember, the movement started by two guys who wanted to draw more attention to men's health issues. As a reminder, you start the month with a clean shave and then grow a mustache throughout the month. Their movement has raised hundreds of millions of dollars for men's health initiatives.
That's when I realized I wanted to start my own November thing. Again, I don't really care if anybody else does it. But for me, it will mean abstaining from meat from November 1st until Thanksgiving. I mean, maybe someday I'll be able to do the turkeys a favor and forego that tradition, but not this year. I'm not claiming to be a saint by doing this, I'm just giving it a whirl. When I didn't eat meat for that month a year or so ago, I actually felt really good, both morally and physically.
Hence, the birth of my own little #Nomeatember.