[Originally published on NoDepression]
Smoke oozes from the grill of The Tabernacle's open kitchen, setting off the overly sensitive fire alarm for a third time. Its shrill ring is like that of a school bell's, only dampened by the 3-piece blues band that continues playing. Fridolijn (pronounced "Free-Doh-Line") the delicate Dutch beauty who has just concluded her night's performance, puts down her tea, laughs and yells over the mayhem. "Everyone's just going about their business!" It's a comical scene worth mentally framing for later recollection.
We all have them, these moments, which is why Fridolijn's 'Frame This,' the title song from her Catching Currents album, is so poignant.  "When I wrote it, I was aware of time passing, but wished that nothing would change that moment. I just wanted to pause the world for a second."
The January 17th event in London called High Impact was put on by the European Literature Network. It highlighted Dutch and British authors such as Herman Koch and David Nicholls, among others. Fridolijn's performances, interwoven between the readings and interviews, held the audience mesmerized by the fullness of her voice and suggestive lyrics. "Don't leave, just weave," she crooned, and if given the option they would have surely obliged.
"32 years" she gave as the answer to both her age and the length of time she'd been singing, which spoke both of her life's journey and her sense of humor. She was previously headliner of the jazzy Finn Silver. One of their albums, Crossing the Rubicon, is a deft mix of pep and soul, with traditional elements of jazz. 'Way Home,' is a competition in sultriness between the saxophone and Fridolijn's voice. In 'Roadtrip,' she joyfully belts out how "the story unfolds with a road."
After Finn Silver disbanded a few years back, she began producing music with her current members Danny Fisher and David Austin under her own "unpronounceable name." As if on cue, an attendee comes up and congratulates her, using the oh-so-close "Free-doh-lean." "See, even the Dutch can't pronounce my name!" she jokes. She doesn't use her last name "because it's boring."
Aside from the pureness of her voice, a common characteristic of her music is depth. The ironically-named 'Whimsical' as well as 'Still Waving' from Catching Currents capture a difficult break up. She talked about a "leaving with a suitcase full of dreams, drowning in opportunity." Light and fluffy are also hard to spot in 'Cocoon,' with lines like "I'm quietly escaping the havoc through the backdoor, curling up, trusting I'll be safe eventually."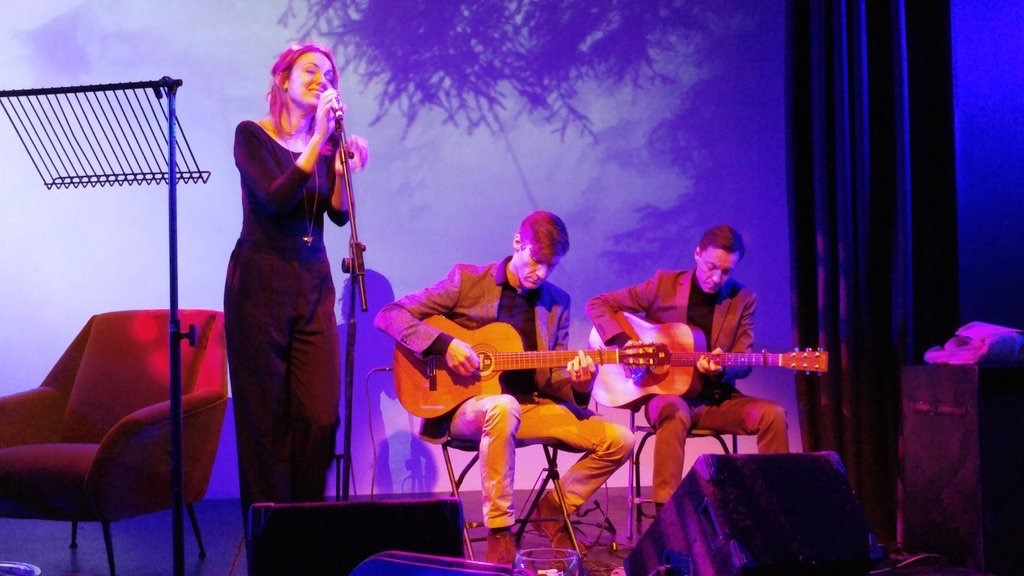 An out-of-place but well executed moment in her career came just last year when she performed lead vocals on an electronic dance release of 'What Matters Most' by 4 Strings. "It kind of blew up…but it's not the direction I want to go." It's still played at trance venues and music site Beatport called it an "epic vocal performance from a true star." Even if it isn't her direction, the energy and vibe of the song does transport some of us to a sexy Spanish discoteca.
Despite a talent that can transcend genres, her upcoming plans are squarely rooted in the brand she began with Danny and Dave, her favorite humans. Also contributing is drummer Richard Spaven, whose work includes performing with rising star Jordan Rakei. She suggests that the music just flows from them, and they're working on a lot of it. "I want to just make something that I'm excited about, and that comes from a real, sincere place."
It does seem like she's poised to do something even bigger, and when asked whether her best music is ahead of her, she quickly responds "definitely." The way her eyes light up the room…it's another moment worth framing.