Many people think that it isn't possible to to take an international trip like we took last summer to Budapest, Slovenia, Croatia and the UK…and in particular to make it affordable. We're here to explain to you how, with the right amount of planning, you can. You may end up out of your comfort zone, or have to make sacrifices along the way, but in the end you'll end up creating family memories that last forever.
Point 1: Find Affordable Airfare to a Great Destination
So, for our family of 5, airfare constitutes the largest % of our overall vacation cost. Therefore, we start with finding flights. Remember the part about being flexible? Here's how we find cheap airfare.
Since the airfare is the most costly part of the overall trip, that's often where we start, even if we're looking at the world as a blank canvas. Our overall approach can be summarized as:
Start with a general timeframe
Start with a general vicinity: in this case Europe
Use a tool like Google Flights to find options
Consider booking your segments separately
See if you can fly when it isn't completely peak season (in the example above, late June is better than mid-July
Remember you have 24 hours to cancel flights between the US and international locations with a full refund, so if you find something, book it!
Point 2: Do Your Research and Create Your Itinerary
Once you have our destination, our first step is to do some research on travel blog posts like this one. Then, based on what you know, decide what your goals are for the trip. How much beach time do you want, time in cities, cultural sites and nature. With your list of destinations and trip goals in mind, now shift your attention to a map. Again, Google is our friend in this exercise, and we created a Google Sheet to track all the details of the trip.
We also created a map outlining our itinerary.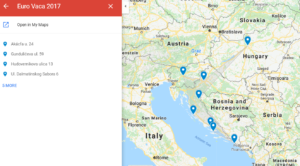 As you'll read in Point 6 below, from there it's about building specific experiences with an overall approach of flexibility.
Point 3: Book Your Lodging
For years we did the hotel thing. Now, in support of both comfort and space, we'd strongly suggest you consider AirBnB or a vacation rental site for your accommodations. Some considerations when you're booking your lodging:
The earlier you book, the more choices you'll have
That said, prices may drop last minute, however if you're looking in peak season, that's a difficult risk to take
We tend to take a hybrid approach, where we book the majority of our nights, but leave one or two "flex" nights, which allows us to stay longer in a certain location if we'd like
AirBnB or similar saves you money on extra person charges, which are very common outside of the U.S.
It allows you to spread out…
For example, at the amazing Zlatni Rat Beach on the island of Brac, we took in views like this: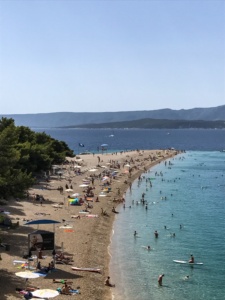 And chose the incredibly well-located Zlatni Rat Beach Hotel as our only hotel on the trip. The 5 of us shared this bed: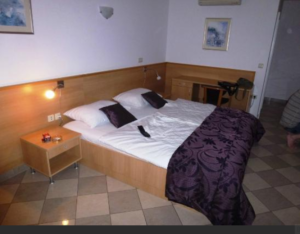 Until our 11 year-old gave up on that scene: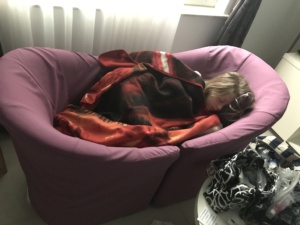 Being close to the action is important, but try a couple unique situations like this AirBnB near Plitvice and you'll make your kids really happy.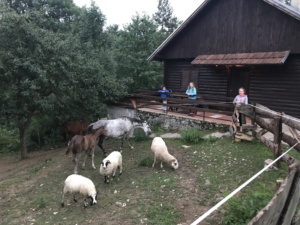 Point 4: Rent a Car
Not for all intineraries, or for all people, but renting a car makes for a much more adventurous and flexible trip. The creation of your itinerary often depends on it, because public transportation may or may not reach all the place you want to go. It will allow you to explore off the beaten path locations and you'll find yourself in unique moments you wouldn't have necessarily found otherwise. It also allows you to access some of the special lodging options we cited in the last section.
For example, this amazing view near our AirBnB in Plitvice was accessed down a random dirt road.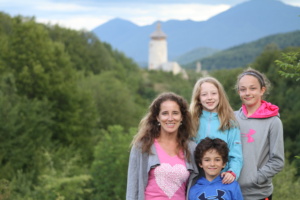 Or this honey and jelly stand in the valley between Split and Dubrovnik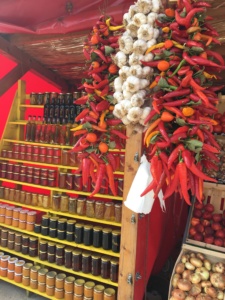 Booking a car is fairly easy, and we tend to use sites like carrentals.com. It is always much more affordable to book your car from the same location you'll drop it off at, so in the case of this trip we rented from and returned to Budapest. Some words of caution renting a car:
Most countries won't accept your US insurance, so you will likely need to pay a substantial amount extra per/day
You might find yourself in sticky situation with the car. For example, during a day trip to Trojir, I screwed up and went down a one way street that became too narrow for our car to pass. After getting warned by a pedestrian, I had to back out of a very tricky, narrow stretch of road. The co-pilot was quite a bit nervous for that episode
Gas costs a lot overseas, and with the distances we travel, it can add up
Tolls are also quite expensive and frequent in countries like Croatia. In other countries, like France, they can be downright cost prohibitive
Know the laws/rules: in Slovenia, for example, we needed a special sticker for the car, even though we were only there for a day. You can buy it at any gas station right near the border.
It's much easier to misunderstand parking signs, as we did in Budapest (after a phone call to the # on the sticker and $27 later we got our car back):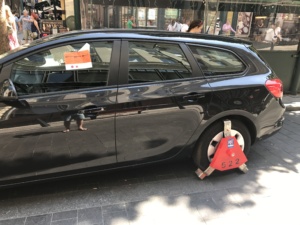 Point 5: Make Food and Drink Part of the Experience
A lot of your memories will come from the special dining experiences you have on your trip. Therefore, we try to use some pretty basic guidelines throughout our trips:
Eat in as many authentic places as you can. You're in Croatia for a reason, so why eat Thai food?
Avoid tourist traps as much as possible. Those tend to be overpriced and less authentic.
You'll likely have access to look up places to eat and reviews of those restaurants, so use that as a tool, however:
Don't rely exclusively on technology: ask locals for their favorite places…it will also give you great opportunities to interact with them.
We also learned shortly into our trip that ice cream was both amazing and cheap in all the countries we visited. The kids began a one-ice cream-per-day streak that lasted for about 10 days. We don't normally let them do that, but at approximately $1 per cone, and since they were behaving on the trip, we made it a fun part of the experience.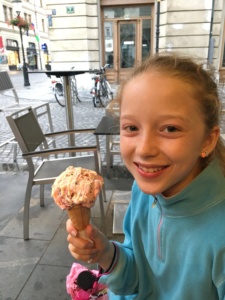 Some advice that didn't affect us, but could be helpful to you, if there are any food allergies, have those written up on index cards in the local language so that you can present them to the waitors at the restaurants you visit.
Oh, and lastly, drink a lot of coffee, since for some reason Europe has figured out how to produce the perfect cup of cappucino and other caffeinated beverages.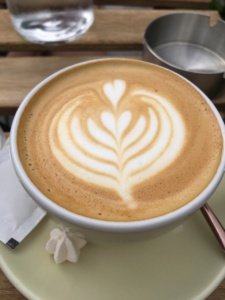 Point 6: Plan Your Trip Around Experiences, Not Checklists
We do start with a list of must sees, but from there we focus on a ton of flexibility to allow for surprises. For example, we knew we wanted to see the amazing beach on the Island of Brac, but we had no other plan besides that. What ended up happening was, literally as the boat was docking in Supetar, we saw off in the distance what looked like an amazing beach and waterpark. Using the flexibility provided by having a car, we drove to where we thought the beach was and found this: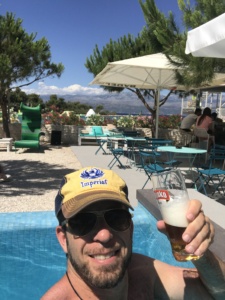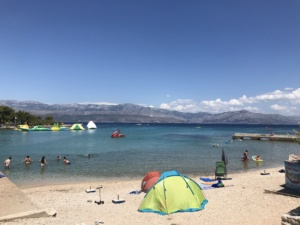 There are so many other amazing things to do and see in these countries, it didn't take much for us to find the most sites and experiences.
For example, there was a sea organ in Zadar, and a great spot to jump into the Adriatic Sea.
Or, the gondola ride on Lake Bled, Slovenia.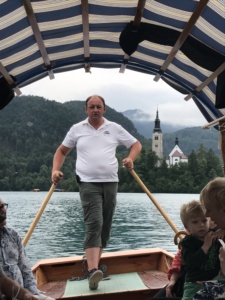 Or the Széchenyi Thermal Baths in Budapest: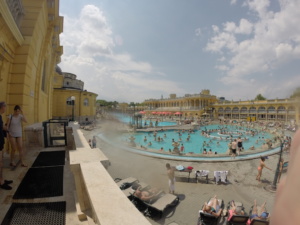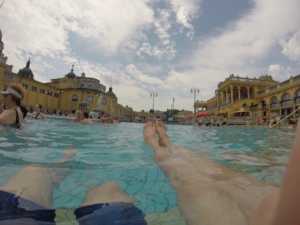 Or Plitvice National Park…enough said: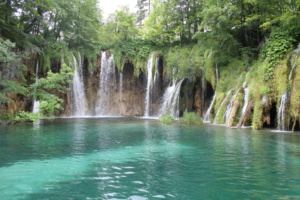 We didn't stress about seeing every single site or every single museum. When we went to a site, we took it in at our own pace, which was either fast or slow depending on our mood. For example, we really took our time at this amazing place, Monument Park outside of Budapest, which held the Communist statues that had been relocated there.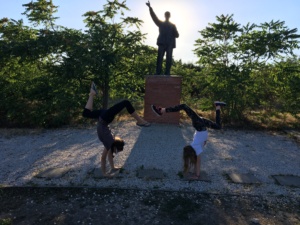 There are huge chunks of itinerary we've left out here, including all of our time in London.
Point 7: Relax, but be Smart, Safe Travelers
From a smart perspective, here are some suggestions:
Travel light. Granted, this becomes infinitely easier the older the kids become – we used to travel with tons of stuff when the kids were tiny – but the overall concept remains the same: less is better. We perfected that approach on this trip by using one small suitcase per person. This logistically made things so much simpler, and even avoided costly airline luggage charges. Luckily we ended up with a small station wagon which fit what we brought.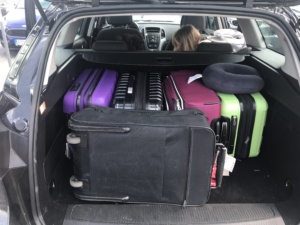 Try your best to have a cell phone option with data. GPS on our trips has absolutely changed the way we travel. We are so much more relaxed, can explore more, and get into fewer arguments. We drive around bustling cities without the fear of losing our way.
Rely on ATMs (this also avoids carrying around boatloads of cash)
Other than that, we put the topic of traveling safe last because, despite following the recipe we've laid out above, all it would take is one really bad situation to ruin it all. A stolen wallet or passports, a car accident…you have to go into a trip knowing that things could happen, but that you have the ability to mitigate those risks.
Mind you, where we went wasn't dangerous or a haven for thieves, but either way here are some suggestions to reduce the risk of incidents:
Don't carry around boatloads of cash. Even if you were to get robbed, all wouldn't be lost.
You might want to consider carrying cash in an armband with a pocket. They sell those online.
Don't flash expensive jewelry.
Don't leave visible bags in the car.
Ask people, such as your AirBnB host, or hotels, areas to avoid (which wasn't applicable in any of the destinations on this trip).
Be relaxed, but aware, particularly when you're in crowded locations.
Keep your kids close by.
In the end if you follow all of our suggestions, you could start creating not just one trip of a lifetime, but many. Next summer's already part-way booked!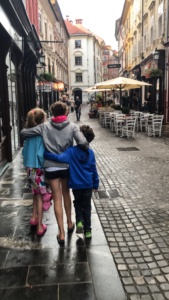 STAY TUNED FOR AN EVEN LARGER COMPILATION OF PICTURES AND VIDEOS FROM OUR TRIP, INCLUDING 360 DEGREE PICS.
And HIT US UP IN THE COMMENTS if you learned something or want to know more.